Transmission & Drivetrain – The transmission may be the most complicated and important components of your vehicle. Many transmission issues can be resolved with an adjustment; others may need a complete transmission overhaul.  If you notice a hard shift or other issue with your transmission, we have the training and expertise to properly diagnose and repair any transmission problem, including drivetrain and differentials.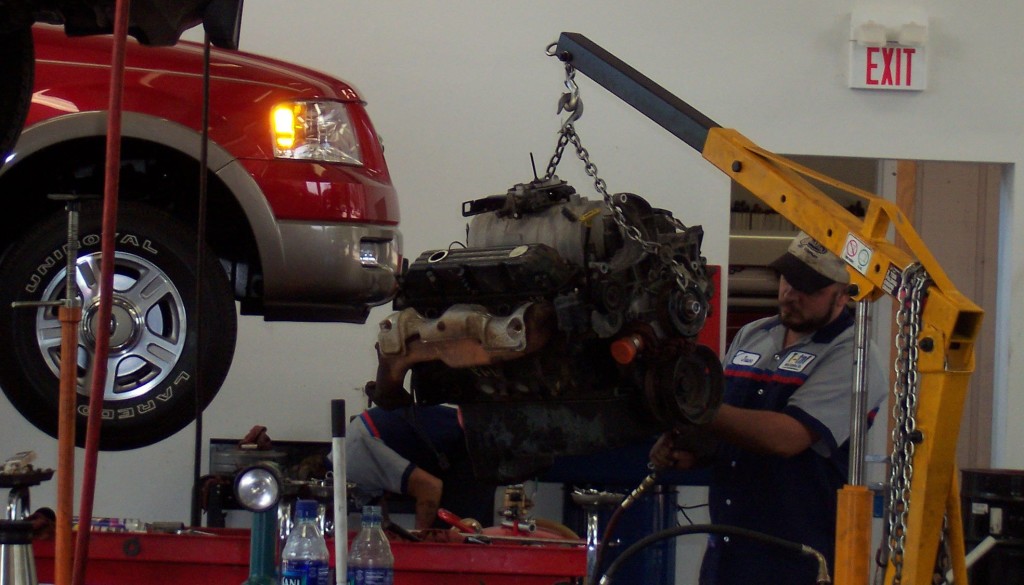 Engine – Our technicians are qualified to perform all types of engine repairs, including head gaskets and valve jobs, timing belts and chains. We can also replace your engine with a high quality used or rebuilt unit if necessary.
Brake Service – Brakes wear out over time and should be checked during routine service for safety issues. The life of your brakes is based on several factors, including how you brake and road conditions. We use only high quality brake pads at affordable prices and can also machine or replace calipers, master cylinders, rotors and other components of your braking system.
Heating & Air Conditioning – If your AC needs a freon charge, minor line or compressor replacement, we can help you. Bring your car or truck by and let us check out your heating and cooling system.
Starting & Charging – Do you need an alternator, starter or battery? We have batteries for most vehicles in stock and can get high quality alternators and starters in a timely manner to get you back on the road as soon as possible.
Steering & Suspension – We are your one stop for shocks and struts, springs, ball joints, control arms, bushings, tie rods, wheel bearings and hub assemblies, rack and pinions or steering boxes. Our experienced technicians can handle any repair your car or truck needs.
Cooling Systems – If you have a puddle of green liquid underneath your car or truck, you may have a leaky hose, radiator or water pump. Putting off these repairs can lead to overheating and severe engine damage.
Routine Maintenance – There are hundreds of moving parts in the transmission, engine and rear end of your car or truck. Routine maintenance can prevent costly expense down the road.
Oil Changes – Changing the oil in your car or truck is the most important service you can do to maintain your vehicle. We offer conventional and synthetic oil changes at a competitive price.
Tune-ups – Regular tune-ups can keep your car or truck in the highest operating condition and can reduce the cost of future repairs. We follow the recommended maintenance schedule for your vehicle and can notify you when your next service is due.
Belts & Hoses – You may find yourself in need of a towing service if your car or truck breaks a belt or blows a hose. Get these items inspected regularly so you don't get stranded on the side of the road.
Diagnostics – Using the most advanced technology we offer diagnostics on every system of your car or truck, including the engine, transmission, brakes, air bags and traction control.
Other Fluids – We can handle transmission services, antifreeze checks or any other fluid service your car or truck needs.